It's Silver for Orange Lip Balm in the FreeFrom Skincare Awards!
Posted on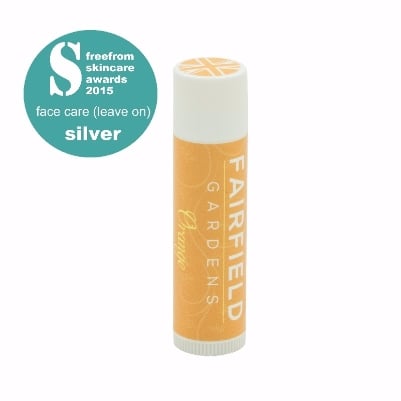 Orange Lip Balm has won Silver in the "Face Care ('Leave On)" category (sponsored by Barefoot SOS) in the fourth annual FreeFrom Skincare Awards presented at The Love Natural, Love Organic Show at Olympia, London on Friday 3rd July.

The Awards were founded to encourage and reward manufacturers of skincare products that are 'free from' many of the allergens, chemicals, additives and fragrances associated with skin sensitivities, allergies, and ethical, environmental and health concerns.

I was thrilled to be shortlisted, so actually winning Silver is fantastic. The fact that we were up against all sorts of facial skincare products, not just other lip balms, makes the achievement even more gratifying. In fact, we were the only lip balm amongst the winners, so technically you could say that we won Best Lip Balm! I'm proud that I can now say that my Orange Lip Balm is multi-award winning!

The announcements followed a long judging process which included a rigorous month-long assessment by testers recruited by the Awards' associates, the Ultimate Natural Beauty Bible, and concluded with several days of expert judging sessions. Some of the comments from the Beauty Bible testers:


"I would buy it to carry in my bag during those walks across the moors - it will be invaluable. Love the plumped-up lips. Packaging is simple and effective, great little tube... And the ingredients - rapeseed oil (so good, local stuff and a welcome change from olive oil), oat kernel oil, rosemary and orange oils, simple and so effective."
"A very efficient lip balm. It delivered moisture and relief from dry lips immediately. I would definitely buy this. I loved it."

The awards were presented by 'Imperfectly Natural' beauty and holistic health guru and author, Janey Lee Grace. Head over to the Skins Matter website for a full list of winners.
Buy Fairfield Gardens Orange Lip Balm from here.